📙 Product Description
This disc shaped pressure washer will outperform any standard pressure washer out there! It's engineered with high quality brush material that is highly effective on almost any surface. It's equipped with two powerful rotating jets that ensure an effective and efficient clean every time. There's no need to replace your old surfaces, this disc pressure washer will make it look good as new!
🍓 Features and Benefits

HIGH-QUALITY

The disc is equipped with ultra strong brush materials that are made to remove the most stubborn dirt.
SURFACE
The washer is designed to clean almost any surface making it perfect for driveways, paths, decks, and many more large surfaces.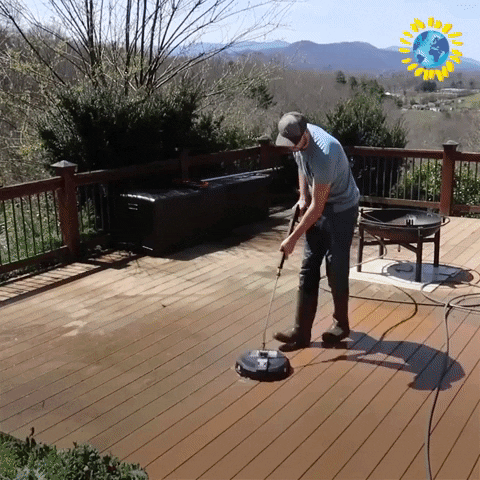 OPERATE 
It's engineered to be simple to use, simply push the lightweight trigger to power the pressure washer. It's extremely easy to maneuver, so you can clean all parts of your surface efficiently.
👓
 S
pecifications
Pressure: 22.7MPa
Adapter: For 1/4 inch quick connector
Colour: Black
Material: Metal + plastic
Package Contents: 1* Pressure Cleaner (without grip)
🙋
 

FAQ

:

Q: Is this compatible with a Wilks RX550 pressure washer?

A: Yes Suitable. Very good

Q: Can I use it with a champion pressure washer?

A: It will as long as it fits an 1-2 pipe.


Q: Does this work with Nilfisk P150 pressure washer and what adapter?

A: Mines a Wilkes pressure washer it just clips straight on with no adaptor needed

Q: Does this work with a Karcher and need a further connection?

A: It doesn't fit my Karcher 6.5. Contact the sellers about suggesting any adapters or connectors. You need a quick fit release connector, regarding the compatibility we can't guarantee it

Q: Will this fit jet wash Lance with a 1/4" quick connect fitting on the end?

A: Probably. However the Wilks is a metal fitting so bring up close up photos of both your equipment and the Wilks equipment. If your fitting is a plastic like Karcher then it will not work. The Wilks fitting is a normal hydraulic fitting.

Q: is this stuff enough to wash patios and path of blocks?

A: To wash patios yes, for different jobs we always advise the use of different nozzles

Q: Does it have a pole attached?

A: No pole. It's a male connector - 1/4" I think

Q: How about logistics times? 

A: After the normal shipment, the goods can be received in 15-45 days. If you do not receive the goods within 60 days, we will refund your money. The order is tracked and you can receive SMS notifications.

 
Fast Washing
Well built and nice package. Got it as gift from my son. Should have it couple years ago.
A must attachment for pressure washer. Fast washing on the driveway. Four times faster than nozzle tips.
Works like a charm for half the cost of brand name
I had zero problems with this attachment on my old Powermate pressure washer from 2007. I wish i had bought one of these years ago. The driveway took less than half the time to do. I've only used this twice so I can't speak to how long it will last, more specifically the bristles. i wonder if they will wear down faster than a more expensive model. But whatever. Works for me and I would buy again
Works great
Bought this to use my driveway , sidewalks and patio. Worked great and did a fantastic job. Cut my time to a little over 2 hours. I would recommend it if you have a large area to clean.
LOVE this, so beautiful
This makes a fast job of your pressure washing goals! Love it.
Poor quality product. Not reliable
Used the product for about 2 minutes before it just popped off and fell apart. The black disk came off the underneath piece that spins. Put it back together and it never worked correctly again. Not a good product. Got refunded.